Keeping dementia patients engaged through arts and crafts activities at home is important for their quality of life. Even when someone has Alzheimer's disease or another type of dementia, they still need to feel engaged in life and have fun. 
Arts and crafts activities that have no right or wrong way to do them are ideal because they're always enjoyable, satisfying, and a boost to self-esteem. 
Engaging dementia patients in arts and crafts can also reduce agitation, distract from challenging behaviors, and increase quality of life. With some creativity, you can turn everyday household items into easy arts and crafts activities for dementia patients at home.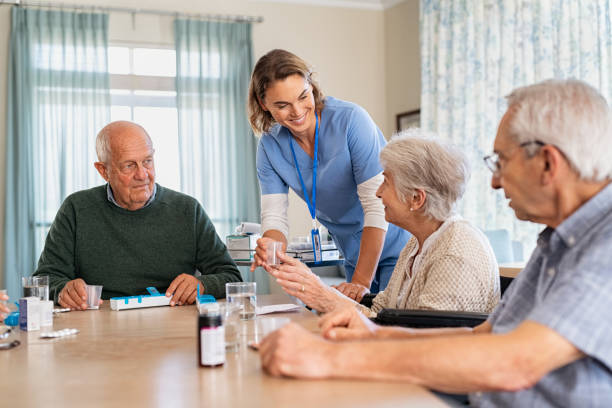 Safety First When Engaging Dementia Patients in Arts and Crafts
When creating arts and crafts activities for dementia patients, it's important to choose options that won't cause injury to them or others. For example, some dementia patients may try to put items in their mouth or tie strings around their fingers, cutting off circulation. Avoid any arts and crafts objects that could be a choking hazard or damage teeth. Know the dementia patient well and select arts and crafts activities that will be safest for them.
10 Easy Arts and Crafts Ideas for Dementia Patients
Here are 10 fun do-it-yourself arts and crafts ideas to engage dementia patients using inexpensive household items:
1. Clothespin Art
Let dementia patients attach brightly colored full-sized or mini clothespins to things like a wire basket or rack. The repetitive motion is calming.
2. Flower Arranging
Provide fake flowers, a vase, and florist foam so dementia patients can create floral arrangements. It engages their creativity.
3. Pipes and Fittings Crafts
Many older adults enjoyed household projects. Let dementia patients reconnect with that by assembling and taking apart PVC pipes and fittings.
4. Sorting Nuts and Bolts
Sorting bins of hardware like nuts, bolts, and washers or piles of spare change brings back memories of managing household finances.
5. Play Dough Art
Knead, roll, and cut homemade play dough. Add lavender oil for extra relaxing aroma. Just supervise so it's not eaten.
6. Musical Shakers Craft
Fill containers with beans or pasta to make shakers for dementia patients. Play music and encourage them to shake along with the beat.
7. Matching Picture Cards
Print duplicate photos of things dementia patients enjoy like animals or family. Make into card sets for sorting and matching games.
8. Magazine Scrapbooks
Let dementia patients cut out magazine pictures they like and glue them into a notebook to make a scrapbook.
9. Stack Party Cups
Give dementia patients bright colored cups to stack and sort "to help clean up." It's an engaging activity.
10. Magnetic Letter Art
Let dementia patients stick letter magnets on a baking sheet tray to spell out words or just play with the letters.
Keeping Their Mind and Hands Active with Arts and Crafts
Dementia patients need to stay creatively engaged. With some creativity, you can take everyday household items and turn them into simple, fun arts and crafts activities that stimulate their mind and keep their hands active. Adjust arts and crafts activities based on the dementia patient's interests and abilities. Supervise for safety, but let them have fun creating. Arts and crafts are an excellent way to engage dementia patients at home.