Dementia causes a progressive decline in cognitive abilities like memory, judgement and reasoning. This can make it increasingly difficult for someone with dementia to live safely and independently at home. As a caregiver, assessing and adapting the home environment is crucial for supporting a person with dementia. Here are some tips on evaluating and improving home safety.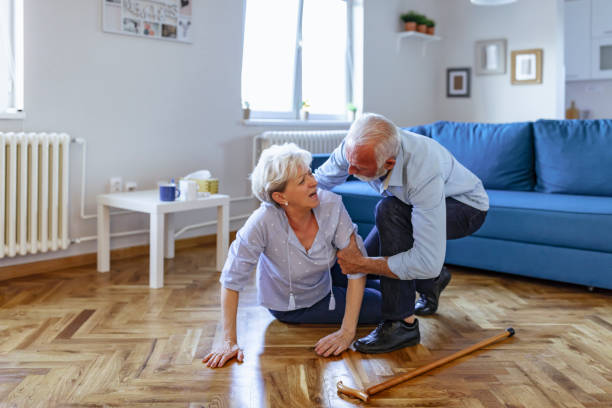 Evaluating Current Hazards
The first step is taking a careful look at the home to spot potential hazards. Walk through each room and make notes on areas of concern. Here are some key areas to check:
Kitchen
Is the stove being properly turned off after use? Consider installing an automatic shut-off device as a safeguard.

Are knives and other sharp objects properly secured? Lock away sharp tools or install child-proof latches on drawers and cabinets.

Are floors kept clutter-free to reduce tripping risks? Declutter and organize items.
Bathroom
Is the water temperature set to prevent scalding? Install anti-scald valves or turn down the hot water heater temperature.

Are grab bars installed in the tub/shower? Add non-slip rubber mats as well.

Is lighting bright enough? Increase wattage of light bulbs to improve visibility.
Stairs, Hallways and Doorways
Are sturdy handrails installed on both sides of stairs? Check that they are securely mounted.

Are pathways free of clutter and wires? Remove any tripping hazards.

Are thresholds between rooms clearly marked to prevent tripping? Use colored tape to create contrast.
Overall Safety
Are smoke and CO detectors working properly? Test monthly and replace batteries.

Are exterior doors and gates securely locked? Install new or additional locks if needed.

Is important contact information posted visibly? Add a list of emergency numbers.
Adapting the Home Environment
After spotting risks, take steps to adapt the home to support independent functioning for a person with dementia. Ideas include:
Improve lighting by using higher wattage light bulbs and installing nightlights or motion sensor lights.

Use colored decals, tape or paint on floors to clearly designate rooms or pathways.

Label doors, cabinets, drawers, and containers with large words or pictures for clear identification.

Use child-proof locks and latches to secure potentially hazardous areas like the kitchen, workshop, or medication cabinets.

Install easy-to-use universal remote controls for electronics like the TV.

Post a large erasable whiteboard calendar with daily reminders and schedule.
Ongoing Monitoring
Keep observing how the person interacts and functions in the home environment. Note any emerging challenges like getting lost within the home. Maintain open communication with doctors and occupational therapists for additional recommendations. Be prepared to adapt the environment as needed to provide continued safety, comfort and accessibility. With some simple adjustments, the familiar home can remain a safe and supportive haven for someone with dementia.
When to Consider Long-Term Care
If home safety becomes difficult to maintain, it may be time to consider moving to a memory care facility. Warning signs include increased falls, wandering from home, inability to operate appliances safely or perform self-care. While adapting the home is ideal, eventually hands-on supervision and care may become necessary.